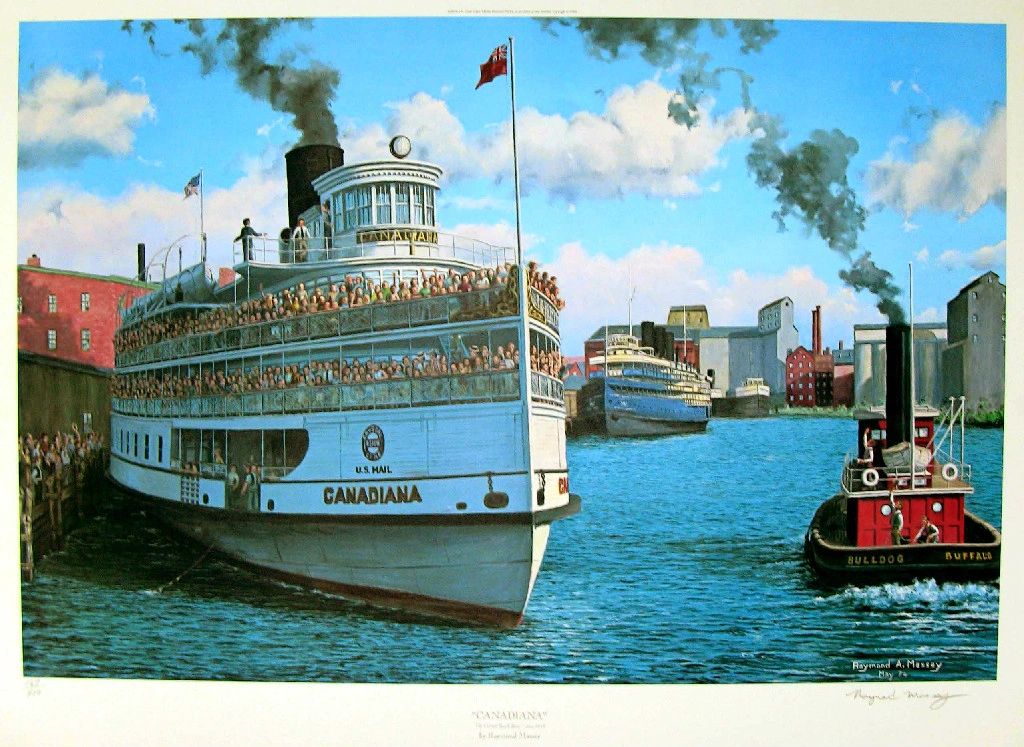 THE PAINTING:
In 1974, the Lower Lakes Chapter of the Buffalo and Erie County Historical Society commissioned an oil painting of the Steamer Canadiana by Buffalo artist Raymond Massey. The images in this, his first maritime painting, burst forth with energy, vibrancy and color.

With the return of the Canadiana to Buffalo in 1984 with the hopes of restoring the steamer to her former glory, there was a heightened interest in the ship and its history. Many enthusiasts who saw the Massey painting inquired about the availability of a print. In response, the Lower Lakes Marine Historical Society (successor to the Lower Lakes Chapter and owner of the original oil painting) published a lithograph of the painting.

THE ARTIST:
Born in Newscastle-on-Tyne, England, Raymond A. Massey is a self-taught artist who came to the United States when he was 10 and made his home in Buffalo, New York since the age of 14. A member of the Nautical Research Guild, he was elected an artist member of the American Society of Marine Artists, which was established in 1978 to encourage the preservation and appreciation of maritime history through art.

Massey's works have appeared in numerous art shows and galleries from coast-to-coast in the United Stares, and Canada.

He is also published a number of books, and once wrote about historic Buffalo for the Buffalo Courier Express and illustrated historic Buffalo features in that newspaper.

Mr. Massey remains active, though he no longer resides in the Buffalo area.

ABOUT THE PRINTS:
Limited edition prints are produced from an original artwork. The number reproduced is stated and produced under the close supervision of the artist who insures the very highest standards of reproduction of the original work. Once printed, the plates are destroyed and the print copyrighted. The artist personally signs and numbers each print.